Rainbow with Egg
Underneath and an Elephant



The Films Alan Parker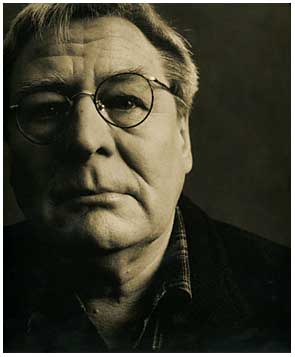 Alan Parker - Biography 1
(1944 - )
Biography from Baseline
Occupation: Director
Also: Writer
Born: February 14, 1944, Islington, England
Alan Parker began his career when he and partner Alan Marshall founded a production company to make industrial films and commercials. Between 1969 and 1978, Parker churned out over 500 television commercials, winning every major industry award, while he was cited as an important influence on both fashion and film style of that time. Parker adeptly used lighting, and his sense of drama as a feature film director seems to come as much from his early need to convey a message in 30 seconds as from a sense of pictorial grace.
In 1973, Parker wrote and directed a 50-minute film, NO HARD FEELINGS, which the BBC bought and eventually aired several years later. EVACUEES (1975), his first film produced for the BBC, brought attention from the theatrical marketplace, and in 1976 he and producer David Puttnam collaborated on Parker's debut as a director/writer, BUGSY MALONE, a musical spoof of gangster films with an all-children cast. His second feature, MIDNIGHT EXPRESS (1978), based on the true story of an American arrested in Turkey for drug smuggling, earned six Oscar nominations and won for best screenplay adaptation and score. Parker has a knack for turning diverse subjects into uniquely personal statements. After his popular success with the stylish FAME (1980), he turned to a sensitively detailed examination of relationships in SHOOT THE MOON (1982), and in PINK FLOYD-THE WALL (1982) he expanded the themes of the bestselling rock concept album, employing innovative animation techniques.
The quirky BIRDY (1984) and the controversial ANGEL HEART (1987) solidified Parker's position as a highly visual storyteller whose pallette makes use of the soundtrack as well as strong imagery. MISSISSIPPI BURNING (1988), a glossy recreation of a famous civil rights murder case, was praised for its fine performances (particularly by Gene Hackman as a veteran FBI man) but drew fire for its glib reworking of history. THE COMMITMENTS (1991) was an enjoyable, if equally glossy, story about the rise and fall of an Irish soul band.
Always fiercely independent, Parker has often lambasted the British film establishment and film critics. No stranger to controversy, he took on the ratings board of the MPAA and personally challenged their "X" rating of ANGEL HEART. Parker has also authored a compiliation of satirical cartoons, Hares in the Gate (1982), and in 1984 produced A TURNIP HEAD'S GUIDE TO BRITISH CINEMA, a sarcastic documentary which ridiculed the critical mentality, a film that delighted his filmmaking contemporaries as well as his four children, whom he has cited as his chief inspiration.
Alan Parker - Biography 2
(1944 - )
Occupation: Director
Also: Writer
Born: February 14, 1944, Islington, England
An advertising gofer turned writer and director, Alan Parker began his film career through his association with producer David Puttnam, another advertising man with cinematic aspirations, who hired Parker to write the screenplay for the pre-teen romance Melody (1971). After a stint directing television commercials and short films for the BBC, Parker made his first film, Bugsy Malone, in 1976. He joined the front ranks of young filmmakers two years later with the fact-based thriller Midnight Express, a brilliant, brutal retelling of the experiences of a young American who escaped from a Turkish prison where he had been incarcerated for drug possession. Both an exposť of government corruption and an indictment of American pomposity, it earned lavish acclaim and a number of honors, including a Best Director Oscar nomination for Parker.
The director followed this success with another two years later, the mega-hit Fame. A box office smash, it spawned a long-running television series and became a fixture in the American pop culture lexicon. Parker's next movie, Shoot the Moon (1982), was a relative failure despite several superb performances, owing in part to its unpleasant subject matter, the agonizing breakup of a marriage. Later that same year, Parker rebounded with a spectacular achievement in a more difficult category of film with Pink Floyd The Wall, an adaptation of a Pink Floyd concept album that received critical approval and attracted a substantial audience.
Similarly acclaimed was Parker's next film, Birdy (1984): the tale of a Vietnam veteran who experiences flight fantasies, it won the Jury's Grand Prize award at the Cannes Film Festival. The director had his next major success with Mississippi Burning (1988): a recreation of the investigation of the murders of three civil rights workers in Mississippi in the mid-'60s, it struck a responsive chord with the public and critics alike. Parker's 1991 The Commitments, a blissful, beautifully structured adaptation of Roddy Doyle's novel of the same name, proved to be a genuine sleeper hit and earned a number of honors, including a Best Director BAFTA for Parker.
Following the disappointment of his next film, The Road to Wellville (1994), Parker was back with Evita (1996), a high profile adaptation of Andrew Lloyd Webber's hit musical. Starring Madonna as the title character, the beloved, controversial Argentinean first lady Eva Peron, the film received mixed critical notices, although it did prove popular with many audience members. Three years later, Parker returned to Irish soil to direct Angela's Ashes, an adaptation of Frank McCourt's Pulitzer Prize-winning novel. Starring Emily Watson and Robert Carlyle, it was one of the year's more highly anticipated films. Bruce Eder